What surface is suitable for installing a terrace with terrace pedestals?
07.07.2022
Summer weather is here again, ideal for spending some more time outside on your terrace. If you do not yet have a terrace, you could choose to build a terrace on terrace pedestals.
The traditional method is to place a terrace on stabilised sand, screed or concrete. But when it freezes, moisture can cause cracks in the joints. Terrace pedestals are a better alternative for this. Terrace pedestals are a simple, modular terrace system that adapts to any situation and environment. In addition, they enable you to install the terrace on any surface. Below we list the different alternatives:
Concrete or screed
Often, a surface on concrete or screed is not completely even. This is no problem with our adjustable terrace pedestals, because they help you smooth any unevenness easily so that your terrace will be level. In addition, a terrace is often installed with an incline for drainage. This can also be bridged with our terrace pedestals and slope correctors.
With the aluminium support system, Structusol, you can mount the tiles or terrace planks even more easily on the terrace pedestals and better manage your water drainage. An additional advantage of installing a terrace with our terrace pedestals is that you do not have to install your pipes in the screed and you can simply place them between your terrace pedestals.
EPDM surface
Would you prefer a roof terrace on terrace pedestals? This is also possible! EPDM can handle high compressive loads and with adjustable terrace pedestals, you can spread these loads and easily create a stable, suspended terrace floor.
Soft surface
Finally, there is also the possibility to install your terrace in the ground, this possibility exists only for installing a wooden terrace. Our Liftsol foundation system is used for this purpose. This system gives a stable foundation in every soil type, with the exception of sandy soil. It combines long screws with adjustable top plates. The Liftsol Screw 65 XL and Liftsol Screw 65 S can be screwed or fixed in the ground with poured cement.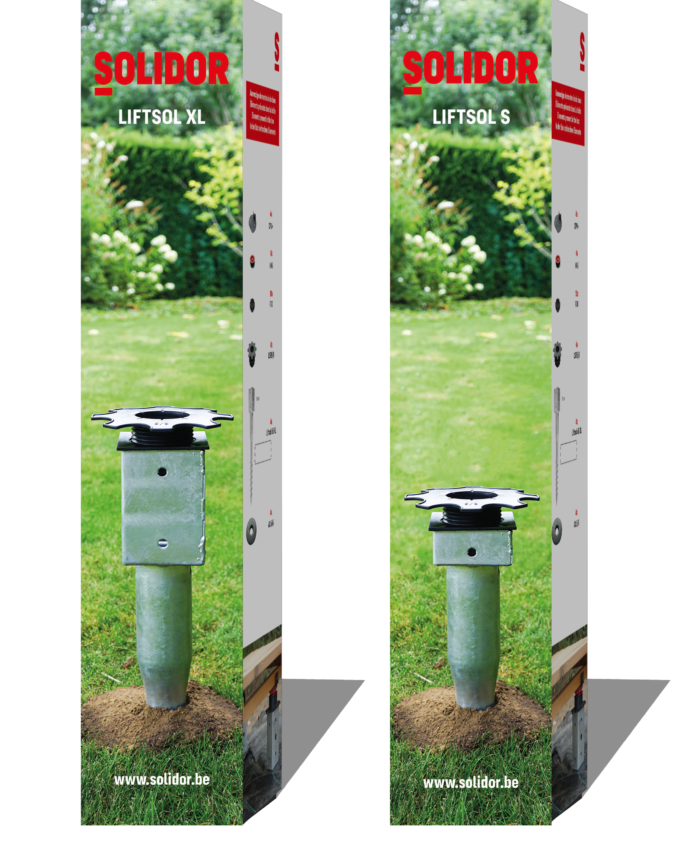 SOLIDOR is taking a break!
SOLIDOR is also recharging its batteries with this beautiful weather and is taking a break from 25 July 2022 to 7 August 2022.
Enjoy the holidays!